35th Anniversary 3.5 Mile Glow Run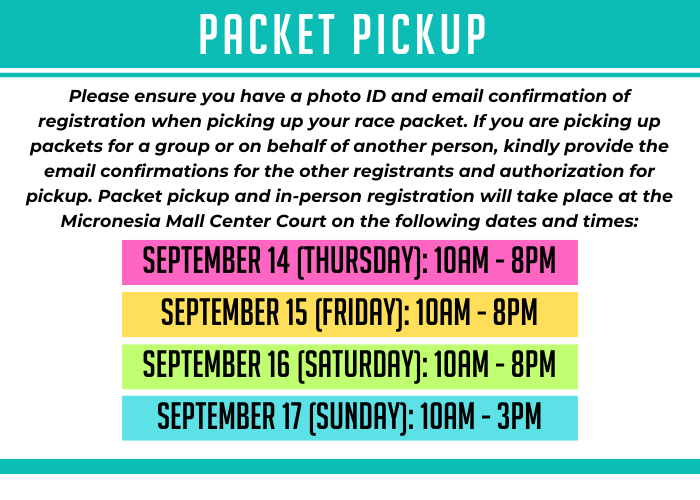 Get your glow on! Join us at Micronesia Mall as we commemorate 35 years of serving Guam with a 3.5 Mile GLOW Run. Break out your leg warmers and rock this dusk run in your brightest and boldest '80s outfit.
Date: September 17, 2023 (Sunday) │ Show time: 4pm │ GLOW time: 5pm
There will be cash prizes for the Top 3 Overall Male and Female finishers and Top 3 for all adult divisions, gift cards for youth and junior divisions, an '80s costume contest with prizes, live music, food vendors and a raffle after the race! Registrants will be automatically entered to win totally awesome prizes, including 3 round trip tickets on Philippine Airlines (including a round trip ticket to any non-US international destination that Philippine Airlines flies to), luxury hotel stays, gift certificates, and more from our sponsors!
Presence is required (based on officially registered names in the system) to win the grand prize round trip tickets.
Part of the proceeds of the run will benefit Alee Shelter, Island Girl Power, and the Guam Coalition Against Sexual Assault & Family Violence.
Register now! Registrants receive an exclusive dri-fit tee from Run Guam, while supplies last.
Follow us on our Facebook, Instagram and TikTok for more details.
This event is brought to you by Micronesia Mall and our Totally Tubular sponsors: Goodwind Development Corporation, Bank of Hawaii, Fine Builders, Inc., Green Energy Solutions, Inc. (GESI), Geek Out! Next Level, Burger King, Choice Broadcasting, KUAM Communications, Goodwind Travel (General Sales Agent for Philippine Airlines), MM Theatres, Pacific Daily News, and Tri-Vision Media Group; our Totally Epic sponsors: Bank of Guam, The Vault GU, Geek Out, First Hawaiian Bank, American Bakery, and Guam Beachfront Residences; our Totally Gnarly sponsors: Aduana International Freight Forwarding Svc., Baldyga Group, Island Elevator, K Cleaning Services, Guam Running Club, PDC Wholesale, Run Guam, and Coca-Cola/Powerade; and our Totally Rad sponsors: Coast360 Federal Credit Union, Moylan's Insurance, Pestex Guam/Clean Shot Guam, Megamixx 101.9FM, and Docomo Pacific.